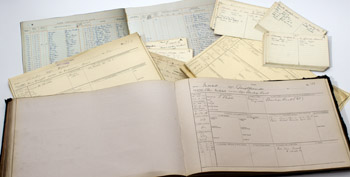 From the beginning, South Shields High School and Westoe School kept pupil records containing dates of birth and entry, names and addresses. Many also have additional information such as parent's name, father's occupation and so on, which may be useful for both geneaological and general interest.
Where these records are available, they have been digitised and indexed. Unfortunately, Westoe's records are now held at the Tyne & Wear Archives, and access is very much more restricted so the database contains only those that I've been able to transcribe on each visit.
To respect the privacy of those still alive (and keep within the law) some information has to be withheld. There are no consistent rules for these restrictions - some British archives are draconian and have a blanket closure for 100 years, others for 75 years, while others for 30 years provided that no sensitive data (such as IQ test results) is released.
I'm adopting a middle-of-the-road policy. For those born more than 100 years ago (or who are known to have died) all the information is available, and there is no information for those who entered the school after 1980. Minimal information is available for those born up to 75 years ago, with a little more for those born 75-100 years ago.
If you would like information on any of those which are restricted then please get in touch. As a general rule I will either need the individual's permission, or details of when they passed away. Also please get in touch if you can provide additional information or corrections, or just want to comment on the database.
-
Redacted information
Served in WWI
Served in WWII
Wartime fatality
Notable Old Boy
Has mini-biography
Appears in a photo on the site
**
Left and returned
WS
Westoe Secondary School
HS
Boys High School
GS
Grammar-Technical School