Back in 1999 I was intending to have something about my old school, the South Shields Grammar Technical School for Boys, on my personal Web site, (www.miketodd.net), but it wasn't until early 2001 that I was able to get around to it. I then started to watch Friends Reunited, and its popularity made me realise that it was time to do something more radical - so I bought the ssgtsfb.info domain, and a site dedicated to the school went online in December, 2001. At its first anniversary the site had registered over a million hits.
Unfortunately, the site was growing so big and popular, I was approaching the limits imposed by my Internet provider. So I decided to move to a new provider and at the same time I got a new domain name (boyshighschool.co.uk). The two sites ran side-by-side, and I don't think many people were able to see the join. But as time went on, the demands on the site grew even greater and trying to make the two parts of the site work together proved too time consuming.
So I moved them again, and now the both access the same tis ... it doesn't matter whether you use www.boyshighschool.co.uk or www.ssgtsfb.info, you'll get the same site content.
Why is the site here?
That's very simple - to provide an electronic repository for the school's heritage, from its foundation in 1885 right through to the present day. However, it isn't just about the Web site, and some time in the future I want to ensure that copies of everything are made available to the school in electronic form.
I'm building up a collection of ATOMs, which at the moment goes back to 1911, and lots of old school photographs - from formal form and team photos, through to informal photos of various school activities. But the site goes beyond memorabilia - it's also about the history of the school.
The site is a labour of love which I fund myself, although there's a small amount of advertising that helps. But it's a slow process, and it can only develop if I have material to include. It is also done in my spare time, which varies from lots to none at all ... so there may seem to be long periods where not much gets done. It's not that I've lost interest ... it's just it occasionally has to take a back seat (particularly with several Web sites to maintain).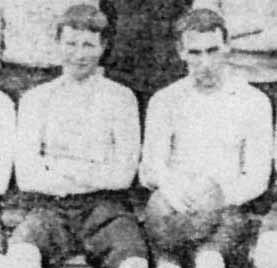 So ... can you help?
There's no way I could have made it this far without the help of many Old Boys, and I am immensely grateful for what they've contributed - whether it is photos, documents, reminiscences, bits of school uniform or just putting me right on names or facts.
I'm also aware that sending contributions takes time and/or money, and I am anxious to ensure that contributions are not taken for granted, nor time and money wasted.
If you're in any doubt whether something is of interest, I can tell you now that it almost certainly is. But it's definitely best to contact me before sending anything (electronically or otherwise) mainly because I don't want to draw on your time if I already have the material waiting in the wings (and there's always a lot of that).
On the other hand, some of the photos and other documents on the site are copies of copies and are of fairly poor quality, as you can see from the sample on the right. Originals (or simply better quality copies) would be very gratefully received.
Thanks
I have to thank the many Old Boys who have provided material. In particular, I would like to thank Ian Tunnicliffe, the previous headmaster, and Sir Ken Gibson, the current head, for supporting the idea and to them and Paul Byrne, a teacher at the school, for allowing me to borrow so much of the old school archives for scanning and uploading.
This is a project which will never be finished... there will always be things to add.